One of the things I have been looking forward to most about the process of creating this next album HYLAB is the chance to learn more about recording in contexts away from the acoustic guitar. It would not be unfair to say that my experience as a recording artist, sound engineer, session player and producer has been heavily weighted towards the guitar with no real responsibility other than making sure the 6-string (or mandolin, charango, bouzouki, ukulele etc) bits sounded great.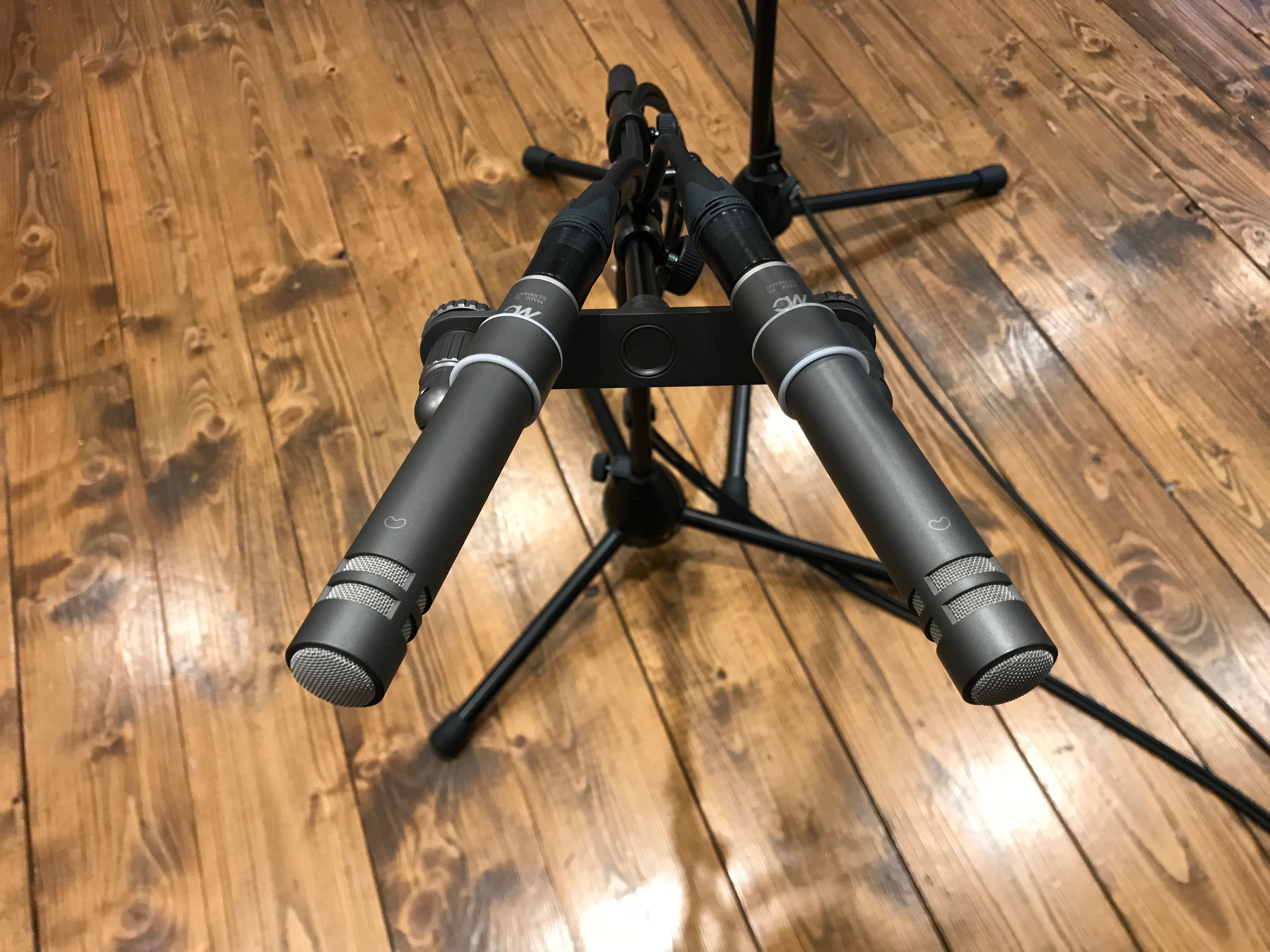 These help... A matched pair of Gefell M300's. Yum. 
A couple of weeks ago I interviewed the mighty Al Di Meola for Guitar magazine and I look forward to sharing the results with you very soon. I would also urge you to subscribe to the magazine if you haven't already. I genuinely enjoy reading it, even the bits I didn't write! 
So, Al Di Meola has a new album coming out, and it's wonderful. One of my fondest memories was hanging out with the man himself and his co-producer Hernan Romero at Abbey Road Studios during the sessions for All Your Life back in 2012. he really is an extraordinary musician and I'm looking forward to this next record very much indeed!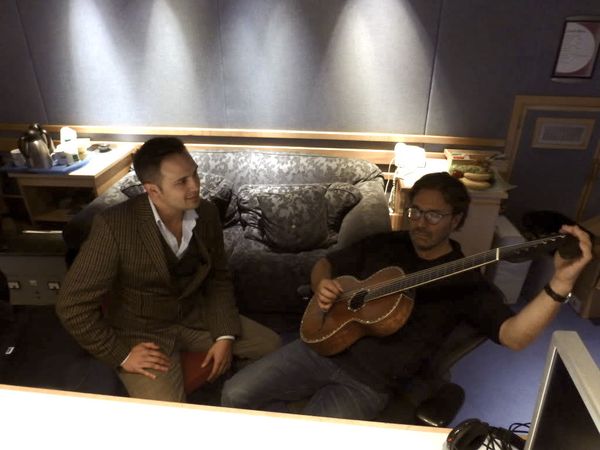 Just chilling in Abbey Road Studio 3 with Al Di Meola and an 1833 Martin Stauffer nylon string... 
One of the things we spoke about during the course of the interview was creative panning. Some of the tracks on his incoming record have the drums panned hard left or right and there are all sorts of other little tweaks and details which I know you'll enjoy as much as I have. What was really interesting was that the record company sent me the tracks pre-mastering. A fascinating insight into the process!
Now this got me thinking... I revisited some of my favourite albums to see what went where and why in the stereo image. I also took the time to scrawl some maniacal-looking notes! This came in very handy as I was looking at the recording of Between Streets from the last session with Rex and Evan and wanted some guidance with the dark art of panning for jazz...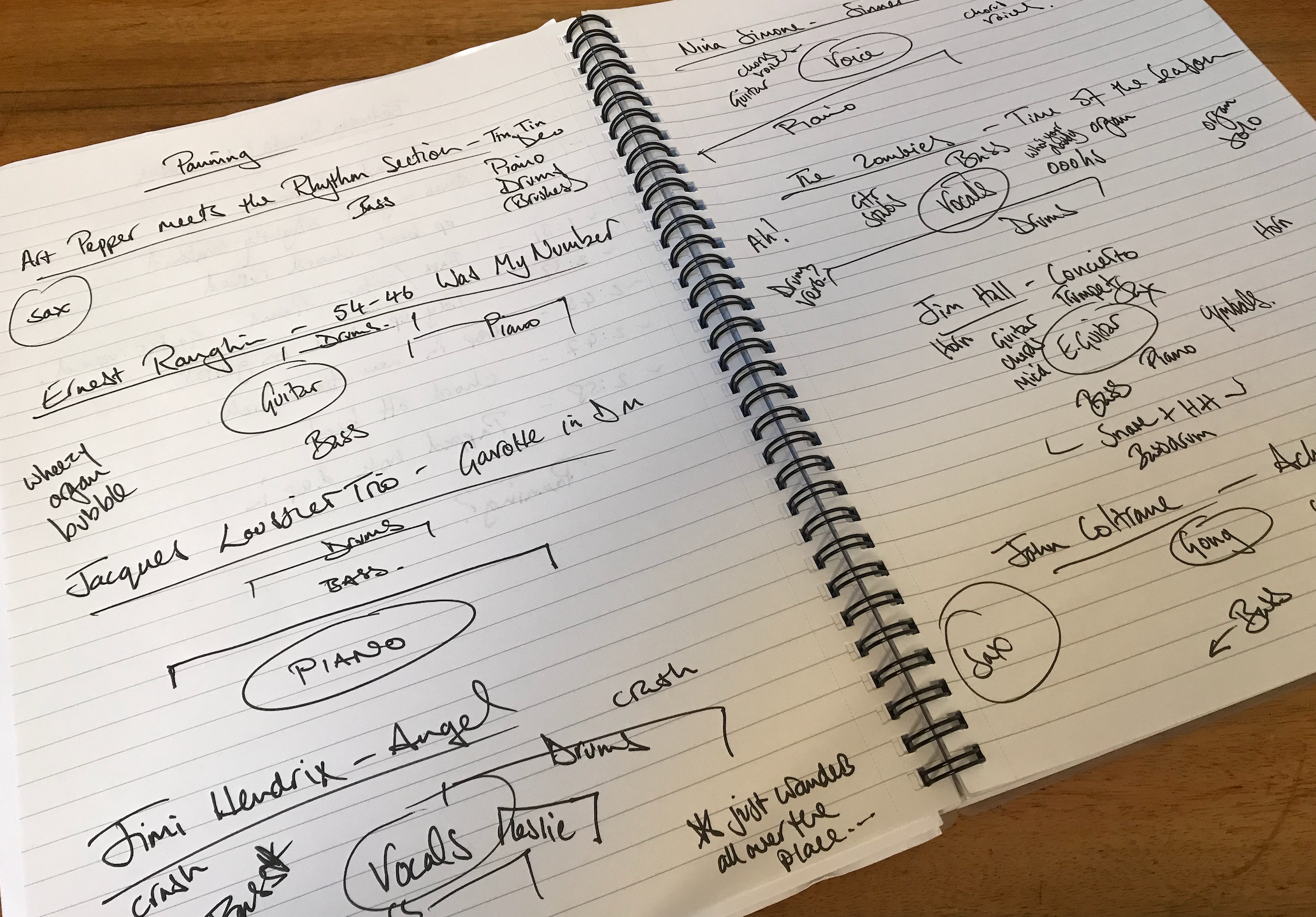 Unhinged scrawl
Check this out - the whole rhythm section all the way to the right, Art Pepper on the left -but it works - and that's the main thing!
Now this is just delicious, some of the finest players together for a glorious take on a wonderful piece of music. There's a real sense of intimacy from the close panning which gradually spreads as more instruments enter. This is one of my favourite recordings of anything ever... 
Once again we have some extreme panning with Nina Simone's glorious voice and HUGE piano sound countered with bass and drums hard right and some scratchy guitar to the left. This exercise wasn't intended as the catalyst for an in-depth YouTube session but that's how it ended up! 
Bringing things a little closer to contemporary here is the ridiculously cool Ernest Ranglin laying down the truth front and centre with a wheezy organ bubble on the left and a spread piano playing some beautiful rhythm ideas. 
Fear not though, despite the trio format, use of a hollowbody guitar, reckless endangerment of major 7th chords and flatwound strings I can assure you that HYLAB is not just a jazz record. Between Streets is just one texture I've been exploring and I look forward to putting more your way soon. In the meantime here is the original acoustic-only demo. I hope you enjoy it!
Until next time, stay tuned!
Michael